High-performance marketing packages
ADAC Online has never been more
relevant for campsites. With your presence at PiNCAMP, we guarantee you excellent visibility on Google.de *. Get even more visibility with potential guests through modern advertising formats with guaranteed performance.

High-performance: 3.7 million total actions taken by customers**. Starting at the PREMIUM package, we guarantee customers a minimum of 1,000 actions. The PREMIUM PLUS package even guarantees 1,500 actions***.
Our previous experience shows:
Campsites with a marketing package receive 16 times more profile visits than campsites without a marketing package
Prices for our marketing packages remain unchanged despite the continuous growth of PiNCAMP – starting now is especially smart.
** Source: Analysis of Searchmetrics Visibility Index from May 2019 to April 2020.
** Definition of Actions: Sum of clickouts, booking requests by e-mail and start of the booking process on PiNCAMP.
***
Definition of Guarantee: For each negative deviation from the guaranteed actions by 3%, you are entitled to a credit of 1% of the package price.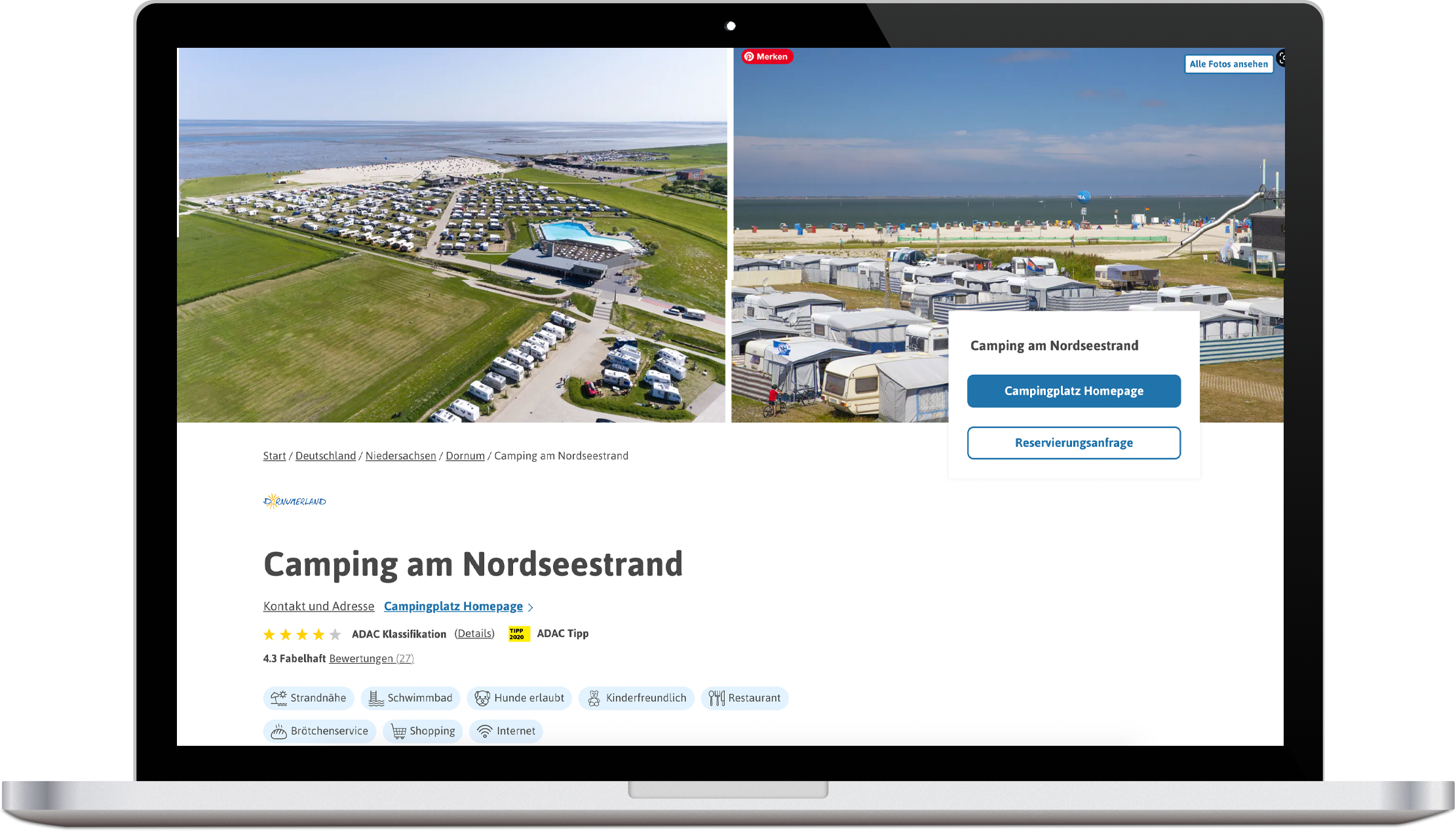 BASIC
COMFORT
PREMIUM
PREMIUM PLUS
PiNCAMP Online Booking

Direct access to millions of campers in Europe

✔

✔

✔

✔

Very low booking commission

10%
8%
8%
8%

Receive booking requests

✘

✔

✔

✔

Your campsite appearance on PiNCAMP

Unlimited amount of pictures

✔

✔

✔

✔

Display of your ADAC Classification

✔

✔

✔

✔

Display of your ADAC Campcard discounts

✔

✔

✔

✔

No other campsites shown on your own PiNCAMP profile

✘

✔

✔

✔

Prominent link to your homepage on your PiNCAMP profile

✘

✔

✔

✔

Display of your phone number and e-mail address for campers to get in touch with you

✘

✔

✔

✔

Your logo on your PiNCAMP profile

✘

✔

✔

✔

Access to personal analytics dashboard

✘

✔

✔

✔

Detailed description of your campsite, specifically optimized for search engines

✘

✘

✔

✔

Integration of your YouTube video & webcam link

✘

✘

✔

✔

Link to your homepage in your image gallery

✘

✘

✔

✔

Minimum of 1,000 actions** guaranteed***

✘

✘

✔

✔

Minimum of 1,500 actions** guaranteed***

✘

✘

✘

✔

More visibility

Profile shown in search results above campsites with BASIC package

✘

✔

✔

✔

Power Rotation | Rotation of your campsite in the TOP 3 search results

✘

✘

✔

✔

One Facebook Post, reach of at least 10,000 contacts

✘

✘

✔

✔

One additional Facebook Post, reach of at least 10,000 contacts

✘

✘

✘

✔

Your campsite rotating as an ad on BASIC campsites

✘

✘

✘

✔