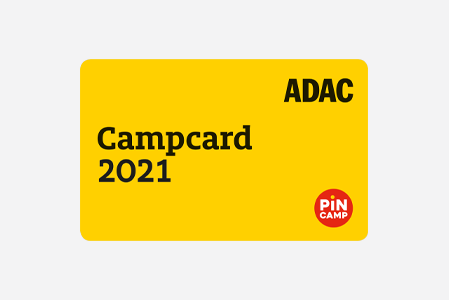 Simplified system, exciting benefits
Starting in the 2021 season, we are radically simplifying the ADAC Campcard system. While other discount systems leave you with rigid pricing structures, the ADAC Campcard gives you full control over your prices. With the ADAC Campcard, you can generate more bookings in the offseason. Over 2,700 camping and motorhome sites in 36 European countries are already taking advantage of the ADAC Campcard. Participation in this benefits program is completely free of charge for all campsites and motorhome sites. Advantages of the ADAC Campcard:
More bookings in the early and late season
35% more visits to your campsite profile on PiNCAMP and in the ADAC Camping and Motorhome Site App
Visual highlighting in the ADAC Camping and Motorhome Site Guide
No rigid pricing system, you keep control over your prices
Participation is free of charge for all campsites and motorhome sites
Benefit from free marketing campaigns (print and digital) for the ADAC Campcard
The ADAC Campcard is an integral part of the ADAC Camping Guide (market leader in print), the Motorhome Site Guide, and the ADAC Camping and Motorhome Site App (market leader in apps).
In order to participate in the ADAC Campard, please define the discount amount you want to grant for ADAC Campcard holders and the validity period. As a campsite, you can grant the discount either on pitches, on self-rented rental accommodations, or on both types of accommodation. The discount must begin at 10%, can be increased in 5% steps and needs to be valid for at least 50 days in a maximum of four periods. The higher the discount, the more attractive your campsite becomes for price-sensitive campers. With the Campcard, you can also choose to offer other incentives, such as dogs and/or children of up to six years of age staying free of charge.
ADAC Campcard for motorhome sites
As a motorhome site, you have even greater flexibility when it comes to choosing your discounts. You can offer ADAC Campcard holders at least one of the following advantages on no less than 50 days per calendar year and benefit from the many advantages of the ADAC Campcard.
Minimum 10% discount on the accommodation price including all persons
Children up to 6 years stay free of charge
Dogs stay free of charge
You can also offer additional individual advantages
The 50 days can be divided into a maximum of four periods, whereby the granted discount always needs to remain identical. The offered discounts are valid from the first night.
ADAC Campcard – questions and answers: